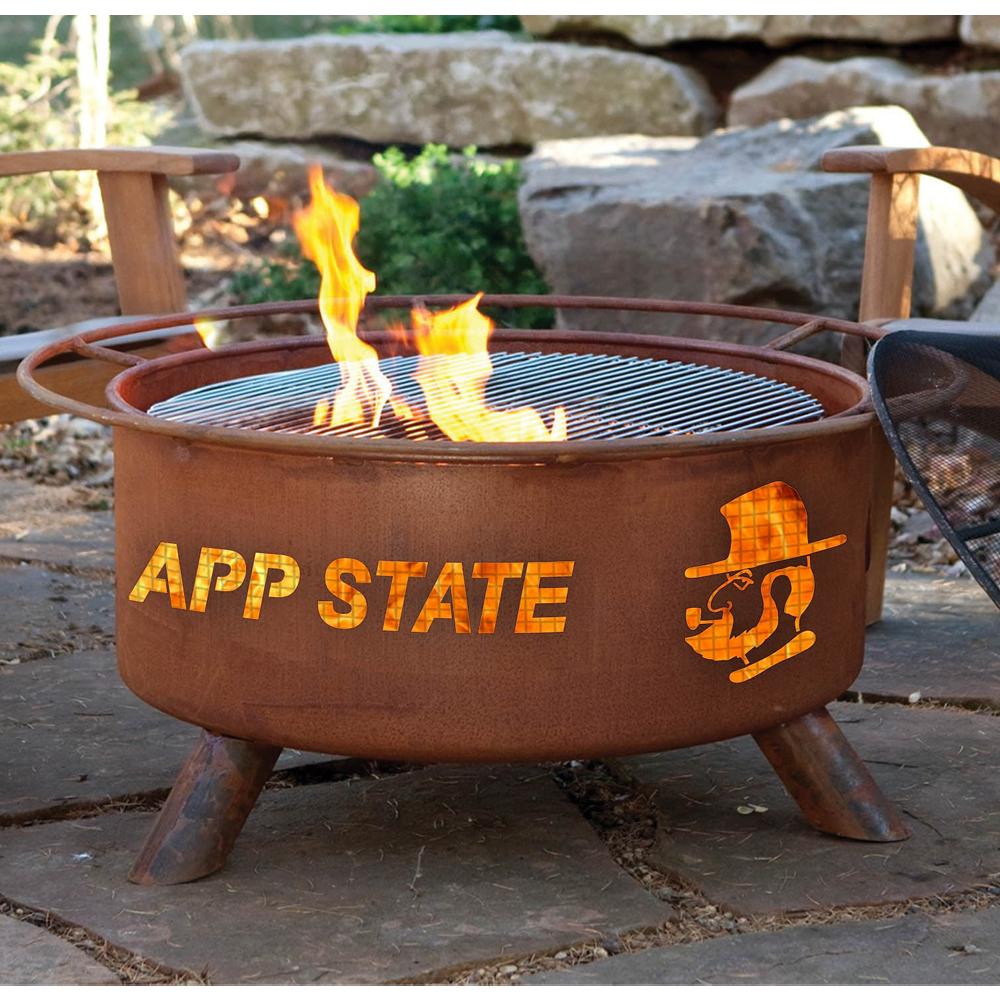 Appalachian State Fire Pit
Item # F479-DS-APP
$300.00
Please check the disclaimer checkbox to add this item to the cart
I understand that this is a drop-ship item which means it ships directly from the vendor.
1. Additional shipping costs may apply. They will be shown in a shipping notification below, if applicable.
2. Expedited shipping is not an option for drop ship items.
3. Delivery times vary by vendor but usually ship within 3 weeks.
Add to Cart
This item is part of a program that will ship directly from the vendor. Lead times can vary but most items will ship within 10 -15 business days. Expedited shipping (UPS Next Day Air, UPS 2nd Day Air) is not an option for items on this program. Orders will be shipped via UPS Ground and must be shipped to a physical address (No PO Boxes). Additionally, since this item ships directly from our vendor, gift notes and / or gift receipts cannot be accommodated. Other items purchased will be shipped separately.
Add to Wishlist
Find In Store
Ask About This Product
Product information
App St Fire Pit
BUILT TO RUST - GUARANTEED TO LAST!
All fire pits come with a natural rust Patina finish that ages beautifully over time. Patina Products does not use harmful paints or coatings on the fire pits.
When you receive your fire pit the patina finish may not be uniform so expect tones of amber, green, yellow, white, black, brown and even
bare metal, to be visible. It may be rough, dusty and flaky to the touch. Once you start a fire the color of your fire pit will quickly change to a pleasing deep, dark red color that will last for years to come (All Patina fire pits come with a limited 5 year warranty).
With over 100 unique designs including a large selection of collegiate, classic and custom fire pits, Patina produces every fire pit on demand at their Arroyo Grande, California facility.
The fabricating process begins with the material. Every fire pit is manufactured from the highest grade 16-Gauge cold-rolled steel.
The bowl or burn box of the Patina fire pit is deep drawn from a single piece of steel (there are no seams) and all the parts including the legs, safety ring and accessory supports are welded in place.
The portable design allows the fire pit to move easily from patio to beach, lake, campsite or cabin. Perfect for barbecues, gatherings, camping, tailgating or a quiet evening at home.
A safety ring surrounding the fire pit also functions as a footrest and handle.
Distinctive flame cut artwork adds to the charm of the fire pits and provides extra-ventilation for the fire.
A sturdy mesh screen is welded to the inside of the fire pit to prevent sparks and embers from escaping.
All Patina fire pits include a poker for moving wood and coals, a spark screen lid to keep the fire safe, and a BBQ grill for cooking.
Dimensions: 30" X 30" X 14"
Weight: 45 lbs
Customer Reviews
No reviews have been written for this product.
Be the first one! – Write a Review